I am based in south-west Colchester, Essex, and offer person-centred counseling as well as CBT and IPT.
Counselling is a form of talking therapy that supports and encourages the client to talk about and explore their problems and feelings in a confidential environment.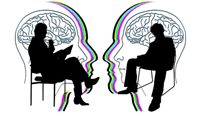 A counsellor has been trained to offer the core conditions that will ensure that the client feels understood, accepted and safe. Whilst the term counselling is used to describe talking therapies in general it is a type of therapeutic intervention in its own right.
How Counselling Can Help
Counselling is aimed at helping you face and deal with any emotional issues that are making you feel distressed or uncomfortable. It provides you with a safe and dependable place for you to discuss and explore difficult feelings. The counsellor is there to support and guide you in a non-judgemental way that will allow you find your own insights into and understanding of your problems. In this way you will be able to find your own solutions and put them into practice.
What Counselling Can Help With
Cope with a bereavement or loss due to a relationship breakdown
Cope with stress related to life changes such as redundancy or work-related issues
Explore issues such as sexual identity
Deal with issues which are preventing you reaching your full potential
Deal with feelings of depression or sadness in order to develop a more positive outlook on life
Deal with feelings of anxiety which lead to worry
Gain a better understanding of yourself and your problems
Feel more confident
Develop a better understanding of other people's points of view
What to Expect
Because counselling encourages you to face difficult or painful feelings, you can feel worse for a while, but with the help and support of the counsellor you will gradually start to feel better. On average it can take a number of sessions before you start to see the benefit so it is important that you remain committed.
During the session, the counsellor will facilitate you to explore and express your feelings. In doing so you will begin to gain a deeper understanding of your emotions and be able to identify solutions to your problems.
It is extremely beneficial to have a space and time where you are able to share your fears and concerns with someone who is able to acknowledge them and help you reach a solution.
Initially you will be offered up to six sessions at which point your progress will be reviewed and together you will decide on whether you need further sessions. The duration of your treatment will be entirely up to you.
Costs
The cost of person-centred counselling is £45 per hour. Some concessions are available.
Session length: 1 hour.