I am an Interpersonal Psychotherapist and offer Interpersonal Psychotherapy (IPT) from my home in south-west Colchester, Essex.
Being in a relationship, whether it is within a family, platonic or romantic, is what makes us human.
On the whole, these relationships offer us unique opportunities to interact with others and enrich our lives. Unfortunately relationships are extremely complex and the way we manage them can have a significant impact on how we feel and function.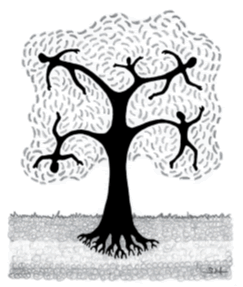 Interpersonal Psychotherapy therefore focuses on how those relationships impact on our wellbeing and how our wellbeing impacts on our relationships. Whilst this form of therapy assists individuals to deal with a variety of issues is it mostly recommended for depression and anxiety disorders.
What is Interpersonal Psychotherapy?
Interpersonal Psychotherapy is evidence-based, effective treatment for depression and anxiety. It hypothesises that depression and anxiety symptoms are associated with life events, more specifically difficulties within relationships. IPT maintains that depression and anxiety can be caused and maintained by a poor quality of interpersonal relationships. On the other hand, improving that quality of interpersonal relationships can protect against depression and anxiety. Therefore the goal of IPT is to improve the quality of relationships and thereby reduce symptoms of depression and anxiety.
What you Can Expect
IPT is delivered over 16 sessions with three distinct phases.
The Initial Phase
A detailed assessment is undertaken between sessions 1 to 4 which is designed to help the client understand their depression and anxiety as well as begin to consider what they can do to start to help themselves. Working together, the psychotherapist and client will begin to evaluate the client's support network as well as decide on where to place the focus in therapy.
The Middle Phase
This consists of 8 sessions whereby the therapist and client begin to work through some of the issues that have led to their symptoms. The work will focus on one of the following four focus areas:
A dispute or ongoing conflict with a significant other.
Changes in current life situation which may alter the client's role such as becoming a parent, retiring or developing a chronic health condition.
Complicated grief when the grieving process becomes stuck.
Difficulty starting or keeping relationships going.
The Ending Phase
The last four sessions are focused on ending the therapeutic relationship, reviewing and evaluating the process of therapy and changes that the client has made. It will also establish a relapse prevention plan to ensure that the client remains well.
Costs
Charges for Interpersonal Psychotherapy are £75 per hour. Some concessions are available.
Session length: 1 hour.